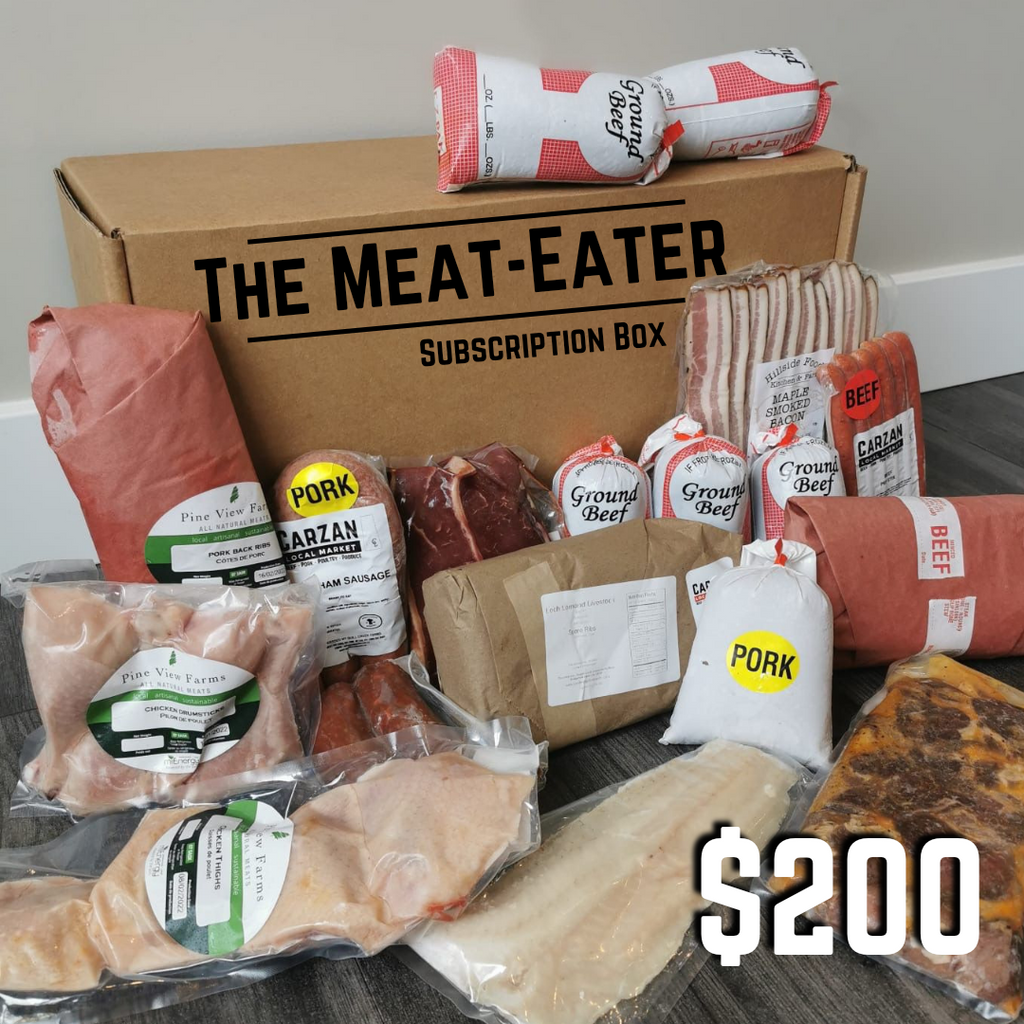 Let us do your shopping for you, and deliver it right to your door every month!
Family Sized!
Want to add farm fresh meat to your family's table? No problem! This box is designed to fit family's of approximately 3-5 people!
Variety!
Subscribe to our Monthly Meat Box and every month a new variety of curated options of our own grass fed beef, pork, chicken and lamb (when it's in season) will arrive on your front doorstep. This option allows you to experience cuts that you might not normally purchase to expand your palette alongside all your old favourites! There will also be a variety of sausages and burgers in these packs!
Savings!
Like our every day beef boxes, these subscription boxes offer a discount on our meat products.
Delivery!
Saskatoon - the first Monday of the month
Regina - the first Friday of the month
Moose Jaw - the second Friday of the month
*delivery only offered to these locations, it will say Shipping on checkout.  We do not offer shipping outside of these areas! Orders placed outside of these areas will be refunded.

Payment will be withdrawn from your account on the 25th of the month for the next month's delivery 
The Meat-Eater Subscription Box
The Meat-Eater Subscription Box

Description

Let us do your shopping for you, and deliver it right to your door every month!

Family Sized!

Want to add farm fresh meat to your family's table? No problem! This box is designed to fit family's of approximately 3-5 people!

Variety!

Subscribe to our Monthly Meat Box and every month a new variety of curated options of our own grass fed beef, pork, chicken and lamb (when it's in season) will arrive on your front doorstep. This option allows you to experience cuts that you might not normally purchase to expand your palette alongside all your old favourites! There will also be a variety of sausages and burgers in these packs!

Savings!

Like our every day beef boxes, these subscription boxes offer a discount on our meat products.

Delivery!

Saskatoon - the first Monday of the month

Regina - the first Friday of the month

Moose Jaw - the second Friday of the month
*delivery only offered to these locations, it will say Shipping on checkout.  We do not offer shipping outside of these areas! Orders placed outside of these areas will be refunded.


Payment will be withdrawn from your account on the 25th of the month for the next month's delivery